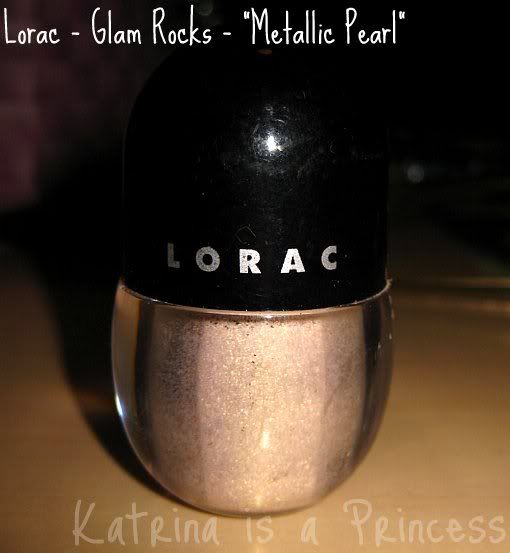 I have had this product from Lorac for quite some time now, I bought it last summer. I have blogged about it before, but not gone into much detail. I was really into the very spreadable and almost moist feeling of the loose pigment. I loved the color and had to get my hands on this cute little nubby! It was a hot item on Sephora's list and was worth the $16 price tag.
Many people would compare these identically to MAC Solar Bits pigments. The colors are very rich and metallic and the color payoff is beautiful!
I only own one color -
"Metallic Pearl"
but I am planning on buying the other 2 colors since Lorac is having a sale! The price has been cut in half for their
VIP sale!
You could now buy these babies for
$8!
Click
HERE
.
Here is a swatch of "Metallic Pearl":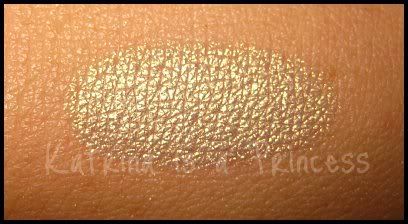 The only
con
I could find about these pigments is the packaging. It's cute, but very messy. I would have preferred it to just be a screw top on an open jar. The sifter that Lorac placed into the container has an odd shape and makes it hard to save any excess that comes out, which means it will most likely just be wasted or accumulate around the edges. The excess pigment also spills out a bit when you unscrew the cap to use it, so you have to be careful with it. It's a good thing the top screws on nice and tight, or else this stuff would be all over your makeup bag.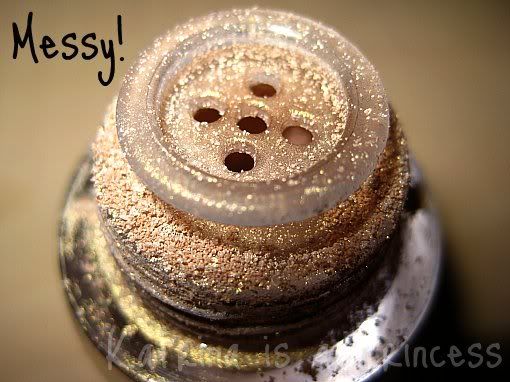 Lorac added directions to applying these loose pigments to your eyes, but they seem to be a lot easier said than done.
The directions stated:
A)
either to put your finger over the sifter, turn it upside down and spread what is on your finger to your eyelid.
B)
If you use a brush, simply turn your jar upside down with the top on, turn it back right side up, unscrew the top and swirl your brush in the inside of the top. Use the pigment your brush picks up from the inside of the top to apply to your eyelid.
I had been using the latter and still ended up with so much excess pigment all over the edges of the container.
I would love to see Lorac come out with many more shades to this line of pigments but it would be amazing if they would change the odd shape of the package.
xoxo,