I don't know how long you guys have been following and keeping up with my posts, but last September, I blogged about searching for dresses to wear for my birthday. My birthday is October 22nd, so I was giving myself plenty of time to figure out exactly what I wanted.
I put up some pictures of the options I had picked out and wanted to get opinions from my readers. I decided I was going to get the
BCBG by Max Azria bandage dress in pink
. You can check out my post about this dress
HERE.
I was so excited to wear this dress and celebrate my birthday, but they didn't have the dress in stock! I looked everywhere and had not been able to find it, and it kind of ruined my birthday party plans. I never got a replacement dress since I was busy with so many other things at the time, and went to Ohio instead to visit Jerrid. Jerrid is originally from Ohio, so he was training for football there and he didn't have the chance to come down to Florida for my birthday. I really missed him and by the time my birthday came around all I wanted to do for my birthday was be with him. My birthday was spent quietly with my man and I really could not have asked for more, it was wonderful.
Today, Jerrid and I stopped by the mall just to spend some time walking around and out of the house. It was extremely hot and this was an outdoor mall, so to be honest, it was not too much fun walking around, but I did get a nice tan.
We stopped to get some food and drinks. We could not bear to walk another step without a break! The baby needed to be fed too.
We passed the BCBG store and I noticed they were having a sale, so I wanted to go inside to take a peek! Guess what I found! The dress I have wanted since last September was there, waiting for me!
We quickly picked it up, I tried it on, I loved it, and we bought it!
I love curve hugging dresses, so this dress is perfect for my taste. I love being a woman, and being a woman means having curves and feeling sexy and secure in your own skin.
The lovely pink color is perfect for summer, and my favorite!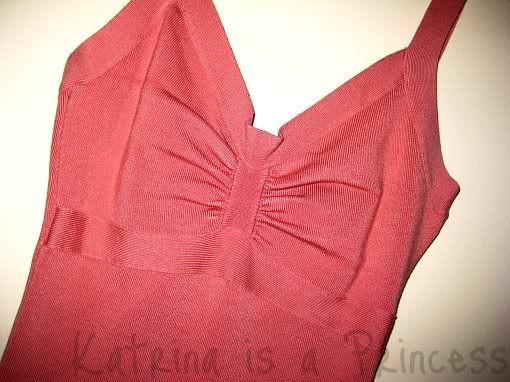 We also stopped by the CCO that was in this mall, but they really are slacking on their selection of MAC products. I asked when their next shipment was and they told me it would probably come in sometime in August. Sunday, Jerrid and I plan to head over to the east coast of Florida to visit my parents, its just an hour drive, totally harmless. There is a wonderful outlet mall in Fort Lauderdale called Sawgrass Mills Mall. If you guys are ever in the area...it's a must stop to shop place! The CCO there is located
inside
the Off Saks so if Off Saks is having a sale...which is very often, the cosmetic products
also count!
I got my Heatherette lippie there and I plan on going back to pick up the eyeshadow palettes, they looked beautiful!
My look for today consisted of:
A neutral brown smokey eye. A very simple look to put together. I used
NARS eyeshadow in "Galapagos"
(
a rich chocolate brown with gold shimmer
) all over the lid of my eye,
MAC "Carbon"
(
matte black
) in the outer V and into the crease, blended it out with a nude colored eyeshadow from a random eyeshadow palette, and applied eyeliner to my upper lash line and my waterline.
AVON Astonishing Lengths mascara
and falsies.
To contour my cheeks and face, I used
MAC blush in "Gingerly
" to contour and
MAC blush in "Spaced Out
" to highlight.
For my face I used
AVON Magix Face Complection Corrector
as a primer. It is a liquid to powder cream that gives your foundation a matte look. I went light on the foundation since the
AVON Magix
face corrector really evens out your complexion but did use
AVON concealer under my eyes in "neutral"
. I then sprayed on
Skindinavia Makeup Finishing Spray.
On my lips I applied
AVON Beyond Color Lip Conditioner
,
MAC lipstick in "Creme d'Nude"
and topped it off with
MAC Creamsheen lipgloss in "Partial to Pink"
(

Limited Edition from Creamsheen Collection

)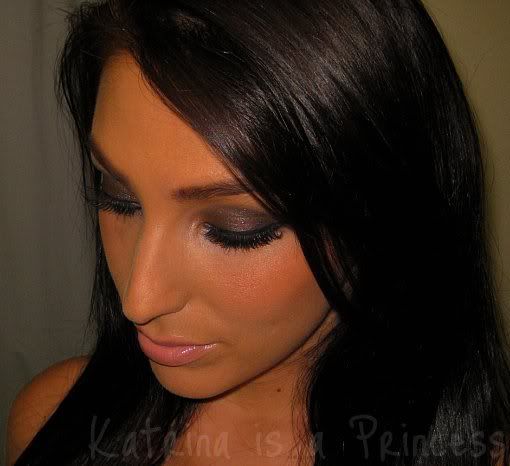 xoxo,