Hey guys!
I hope you like the new layout on my blog. I've been looking to change it for quite some time and have been working on this layout for a while now. I could not decide on a color but decided to settle on lavender. How do you guys like it? It's a nice change from all the pink...for now! Who knows how long it will be until I change my layout again! That's just what I do!

Yesterday my baby turned 6 weeks old! I know it seems silly, but every Tuesday I have a mini birthday celebration for him! He was born on a Tuesday so thats where the sense in all of it comes into play.
I baked cupcakes last night and Jerrid and I devoured them and played with the little munchkin. We watched the Wendy Williams Show and the exclusive ABC interview with Jo Jackson.
How amazing is the Wendy Williams show! Might I add that she looked extremely fabulous! She is just such a personality, nobody is better for that job but her! Now I'm going around saying "How you doooooin?". I really appreciated her teaching us viewers how to properly say it. You look down, get nasal, stretch your bottom lip, and "How you dooooin". Priceless! LOL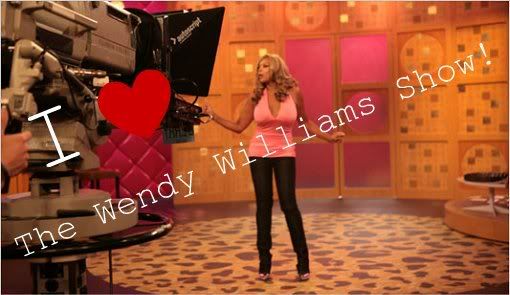 Did anyone else catch the interview with Jo Jackson last night at 10 on ABC? It's such a shame how he is exploiting the death of his son. I think I heard that he was starting his own record company? That makes my stomach turn. He also mentioned in his interview how Michael's children are talented and its a possiblity that they may be performers as well. Which is fine as long as thats what they want, but I'm sure if he had his way with it...they would be very unhappy with their decisions. Than again, who knows.
Now back to my baby and his 6 week update!
Our next appointment to the pediatrician is on the 7th of August, which would make him a few days over 2 months. He will be getting his shots, which I know he probably won't like, so I'm ready to cry along with him.
J.J. is making great eye contact, he is cooing, and follows us around with his eyes. He is even starting to reach out for things! He amazes me everyday!
I will go into more detail on my baby blog, since that is another reason why I started it back up also...I want to update on my baby like a scrapbook!
Here are some recent pictures of him!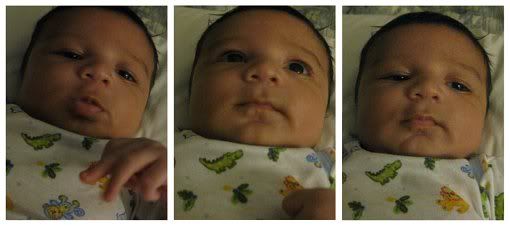 I started my baby blog back up! I had no idea some of you actually were interested in it! I really didn't think there was much to it. I do hope that I am helping a few of your out there who are pregnant or are planning on conceiving. I have been there and wish to share every bit of information that I know with you all. Sometimes it helps to hear it from a friend who has been through it than some kind of random website with all their medical terms. It can get pretty intimidating.

I was scared to death when I was close to my due date. I did not even think I would survive...thats how terrified I was. I thought I would not make it out alive. My mother, Jerrid, and I went over to Wal-Mart to get some last minute things for the baby since I was being induced the next day. I couldn't get it out of my mind how this was going to be the hardest thing I would ever have to do. I went to the bathroom and ran into a girl who had a very young baby with her. The baby was probably about 2 months old. She asked me when I was due and I told her I was scheduled to be induced the next day. She told me not to be afraid and that it really is worth every single moment. She was also induced and opted for an epidural. I was also planning on getting en epidural and she explained to me how it really takes away all your pain. She told me to relax, go with the flow, and that everything was going to be alright. It really made me feel better and even when I was in labor, I remembered her words. I want to help someone out there like she had helped me!

If you need someone to reach out to, I'll be here for you!
Don't forget to leave a comment
HERE
to win a free full sized 4 oz. bottle of Skindinavia's Makeup Finishing Spray Mist to keep your makeup looking fresh for up to 16 hours!
xoxo,