The stunning Mayra is hosting a makeup contest on her blog! Her contest consists of recreating a look from a face chart. Her contest is open until July 10th, so if you want to join in on the fun
CLICK HERE!
I chose to recreate a face chart look from the
Barbie Loves MAC
collection that launched in 2007. One of my favorite collections of all time!
The look is called
"Sweetness"
and was displayed in the ad for the collection by the brunette model.
Here is my recreation.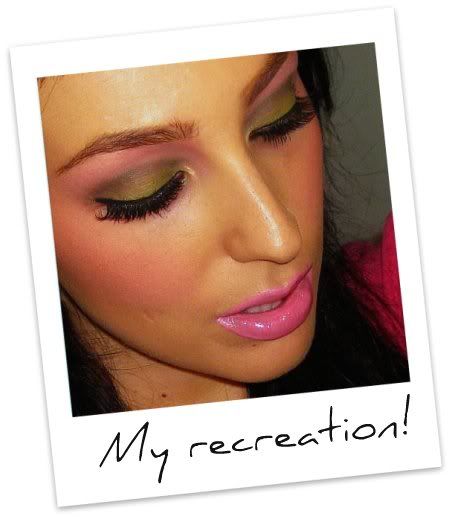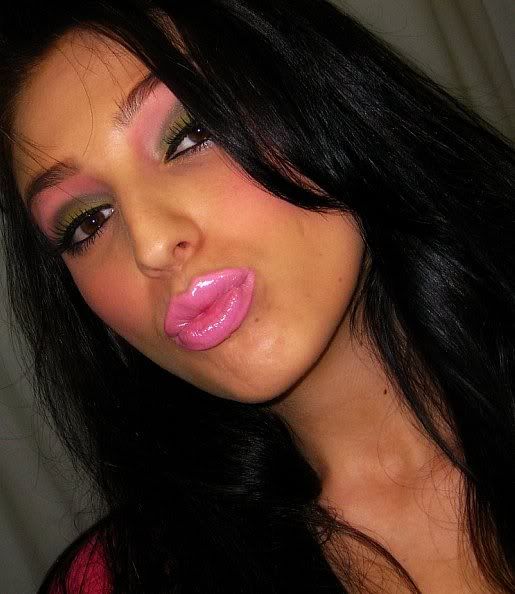 What I used:
Face:
Revlon ColorStay Liquid Foundation - #330 Natural Tan
Applied foundation with Sonia Kashuk Blending Sponge
Cheeks:
MAC Blush - "Pink Swoon" (Used on cheeks and all the way up to eyes)
MAC Blush - "Sincere" as contour

Eyes:
MAC Paint Pot - "Painterly" (used as base)
NYX e/s palette - "Serengetti" (used darkest green color on entire lid)
MAC e/s - "Carbon" (used on crease)
MAC e/s - "Dear Cupcake" (Sugarsweet Collection) used as highlight
MAC Blush - "Pink Swoon" used to increase the pink color
Mark hook-up liquid eyeliner - "Cleo"
MAC Zoom Lash mascara - Black

Salon Perfect Lashes - #45 (found at Wal-Mart)

Lips:
MAC l/s - "Saint Germain" (Limited Edition - Sugarsweet Collection)

NYX Round l/g - "Pinky Natural"
(I know some items are missing.
Somehow halfway during cleanup I decided to take a picture...I know...smart)