I have written about Mario Badescu products a coupe of times on my blog before and I probably will for as long as I keep getting these amazing results! I love Mario Badescu skincare products and should thank my friend Melissa for mentioning the brand to me in the first place. You can check out my review on the MB drying lotion
HERE
. I love this stuff! It gets rid of pimples basically overnight!
I recently tried 4 products from the line and am very pleased with my results, so I'm going to rave about them! During my pregnancy my skin has been quite dry and many moisturizers, even ones which I loved in the past, tended to break me out. Even after I had my baby, my skin has not just bounced back to normal overnight, so I am so glad to have found this stuff. It really helps me keep my skin fresh, hydrated, and helps me fight acne without all those harsh chemicals that are usually found in other skincare products and it doesn't break me out or irritate my skin. Also, they don't test their products on our beloved furry friends...yay!
Where to buy:
www.mariobadescu.com
or at Nordstrom
Here's what I got and what I think of it...
I love the cool sensation of this gel cleanser and it does an amazing job at removing a lot of my makeup without the harshness of a scrub. After I wash my face with this gel cleanser I feel as though I had used a scrub. My skin feels so much smoother and softer without the drying feeling that other cleanser tend to leave. It is a non-foaming cleanser which is probably the reason to the moisturized feeling afterwards, usually its the foam in soaps and cleansers that end up drying out skin the most. This is a non-soap, oil-free based formula and exfoliates with papaya and cirtus, so it is natural. Just team it up with a toner or astringent afterwards and its the perfect acne fighter.
I love the packaging. The typical clean Mario Badescu look, with a cute opaque bottle so you can see the green gooey liquid inside. It has an easy open top of the bottle, which instanlty turns the bottle into a squeezy tube, so you don't end up leaving a mess everywhere. It is also a rather large bottle - 8 oz., so you get a lot of product for the price in comparison to other products which run around the same size. (8oz. - $12)
Oil Free Moisturizer (SPF 17)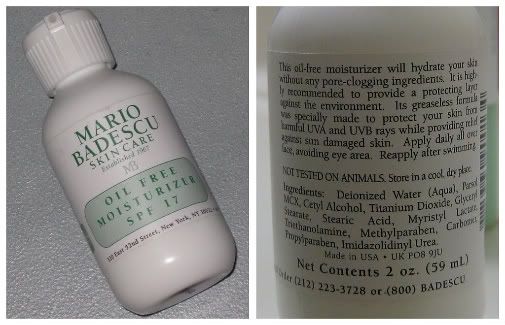 This moisturizer is perfect for me because it is oil free, and contains a sunscreen which helps big time especially living in Florida. My skin does no react very well to sunscreens, they usually break me out, even if they are oil free, so this moisturizer has been a life saver for me because it helps my skin stay moisturized all day, and protected from the sun without the itchy burning feeling I usually get from sunscreens. I love using this moisturizer under makeup too, it really leaved that dewy look since your skin is very hydrated but not shiny and oily. I just wish it came in a larger size! I get a little too nervous to use too much of it because I don't want to waste it or run out of it anytime soon and have to buy it for $22 bucks, even though its totally worth it. Mario Badescu also sells this same product without the sunscreen in it for those of you who are not interested in that, even though it is better for your skin! The sun is very damaging and can even scar your skin or drastically increase healing time for your acne.
Again, this product has the same cute top that turns the bottle into a squeeze tube, which I love! It won't leak all over your stuff in your purse so I get to take this baby around with me everywhere and I don't worry about the cap falling off or opening. Thank you, whoever thought of this top!
I went on www.marobadescu.com and looked at the other moisturizers they carry, and some of them look really interesting and intriguing, which is bad for me because now I need to add them to my wishlist. They carry a Honey moisturizer, as well as a collagen infilled one, an Aloe one, and Buttermilk! My skin is craving!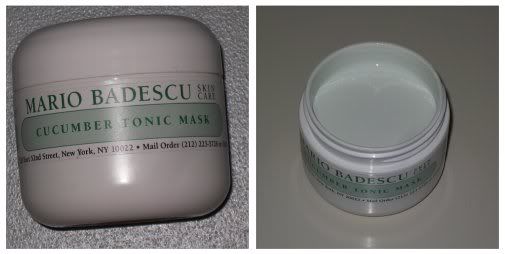 What could I say more about this mask, it just sounds good by the name! I could not wait to get my hands on this one. It feels so cool and rich on your skin and again, doesn't leave it all dry and scaly when you wash it off, but still does the job by tightening your pores. It also smells so good which is not very common for a mask. It comes in a 2 oz. jar ($18), and right when you open it, the liquid is already moist and ready to apply. You also don't need a lot of the product to get the job done, which is great, since I am such a sucker for not liking to use too much of my products...times are tough alright? You apply a thin layer to your face, avoiding the eye area, and wait 15-20 minutes. Then you wash it all off and apply your moisturizer.
Vitamin E Body Lotion (Wheat Germ)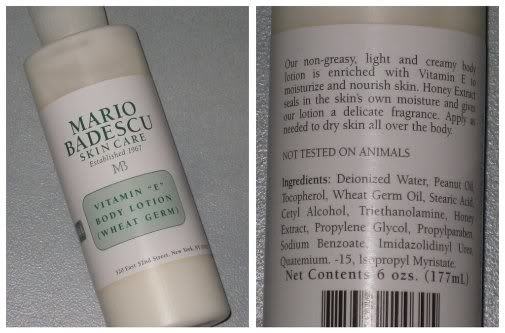 This is a body lotion from the line which runs at around $10 for a 6oz. bottle and $22 for a 16oz. bottle. I love the smell of this lotion and how light it is. I hate having that greasy feeling on my skin especially now since its summer and I live in Florida = death heat. With this lotion I don't automatically sweat it all off as soon as I step out the door even if I had just put it on.
There are so many lotions I want to try such as the Botanical Firming Lotion, the Formula 200 body lotion (sounds intruiging) and the papaya lotion. They just all sound so yummy and I am always in need of lotion since I use so much of it, besides the fact that Jerrid runs through 1000 bottles a week and he doesnt even need that much. He likes to lotion up his abs and make them shiny...I just like having well nourished skin.
Have you ever tried Mario Badescu products and which ones do you love?
xoxo,