The pitch:
Straight from the Runway shades ! Beautifully rich matte color glides effortlessly across lips. Suede-like, cushiony feel and with maximum color impact. Beautifully rich shades from nude to deepest berry.
Product:
3 out of 5
Packaging:
5 out of 5
Quality:
4 out of 5
Overall:
4 out of 5
Shade I bought:
Nude Attitude
Many additional shades are available
Price:
$6 - $7
Where to buy:
Any retialer that sells Revlon, Ulta, Wal-Mart, Target, etc.
Would I buy again?
Most likely
I gave into the hype of Revlon's new formulation matte lipstick. I've heard so many positive reviews on this lippie and after a quick Wal-Mart run, I had it in tact in my bag. I fell in love with the gorgeous nude shade -
"Nude Attitude"
. Not only did the clever name have me at hello, but the color reminds me of "Belle Du Jour" from NARS, and rather than paying $24 for a matte lip pencil or lipstick from the high end brand, I thought I should try out Revlon's dupe.
Testing the lippie, it is very matte-like and a bit drying. It glides on the lips, is rather slippery and light, and tends to show and smear if you rub your lips together. If your lips touch togetehr it will show signs of touching and creasing. The texture really does remind me of NARS large lip pencils, which also create a very matte dry look on your lips and have this very slippery silky texture. Of course the NARS lip pencils are quite drying, but most matte products are since they do not have that moisturizing shine.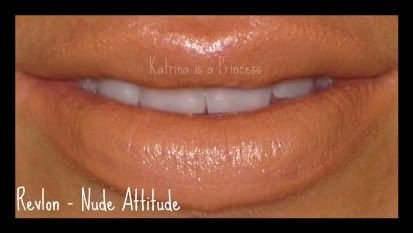 I personally would prefer to moisturize the lips prior to application or applying a gloss on top. This goes for most matte formulation lippies. They do tend to dry out, leave your lips looking flat, and often need applying.
Overall this is a great product. Maybe I feel this way because I love most lip products. This is a perfect dupe for NARS giant lip pencils and matte lipsticks and give you a perfect matte finish, if thats what your looking for. As long as your lips are moisturized and you do not mind reapplying your lipstick, this lippie is a good purchase, especially being priced under $10 and found basically anywhere.
Most likely I will re-purchase this product. I have my eye on "Pink Pout", since I would love to see how the baby pink matte would look. I love nudes and pinks...obviously, but I will have to decide whether or not I would really be able to put up with the texture.
xoxo,