I've always heard great things about Avon and Mark things but never seemed to pay any attention to look into the products because I expected them to be expensive. Oh boy was I wrong! Recently my mommy became an Avon representative and I have skimmed through some of the catalogs when she was here to visit.
Not only could I choose about 50 things that I absolutely had to have, but I could actually afford them!
I ended up starting out getting 3 Mark cosmetic products, hair products from both Mark and Avon and some aftershave cream for Jerrid.
I got 2
Mark Pro Gloss lip plumping glosses in 'Sexy' and 'Spice'
. I love these glosses! Usually plumping lip glosses really get on my nerves because they tingle so much and I really don't like the feeling. Besides they usually end up drying out my lips to an extreme. These Mark glosses seem to be doing the trick in the plumping department and although there is a very slight tingle to them, it does not last long and the glosses are super good quality for the price!
($5)
. I love how glossy and long lasting they are. The plumping technology in the gloss gets the blood flowing to your lips through the slight tingles but goes away after a few minutes. You lips stay shiny and huge without the pain! I love it!
Mark - On the edge Hook Up Liquid Eyeliner - Cleo (black)
. I have never really tried a liquid liner because I was all about smudging my eyeliner into my shadow for the smokey look. I thought I would give this liner a try since its super cheap
($5)
and I fell in love with it! When you are looking for that colorful summer look where you use those amazing bright colored eye shadows you need to have a sharp eyeliner line! I love the look! I'm really surprised at myself that I have not given it a chance before. You don't get the same effect with cream eyeliners as you do with liquid eyeliners. The tip on the Mark eyeliner is so precise too, the bristles are very pin pointed and the quality of the liner is great. It comes off easily so there is no irritation to the eye while washing. I will definitely be buying more of these.
I love how you can connect your Mark goodies! If you purchase 2 items from Mark they give you a complimentary connector. You just snap whatever you want to bring along with you into the connector and head on your way. You can change it up by taking it off and replacing it with other cute connector Mark goodies!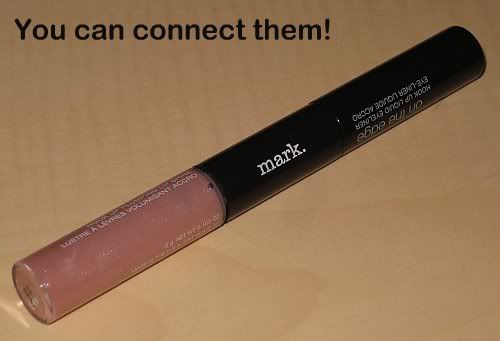 I also had to get a few hair products. For the prices on the Avon website I couldn't pass it up. I bought a
Mark Root Lifter
spray and an
Avon mousse
for styling. I also had to grab these adorable
Avon hair curling pillows
! I heard such good things about this product and had to give it a try since it was on sale for
$4!
All the hair products were under $10 which is a shocker. Usually high quality hair products are rarely found under $20. I'll have reviews and pictures up for you guys as soon as I style my hair with them. I have been on a "blow dried lazy" hiatus and its time to get back into the game!
If you wish to buy some


Avon / Mark / Skin So Soft / ANEW


goodies from my mommy, check out her online shop!
Click on the image to shop now!