This is my first tutorial and I wanted to start out by doing a simple "Smokey Eye" so you can get an idea of what I do to get the look I usually wear. I love the smokey eye look and find it to be simple, perfect for me and versatile for any color eyeshadow. You can "smoke" any eye shadow color, from bright colors to neutral naturals.
The "Smokey Eye" is a very popular, super sophisticated and sexy look, and you'll be happy to know that it is very easy to achieve!
Don't be intimidated by the dramatic look it gives your eyes, because in reality, you have plenty of room for error and its very easy to touch up.
Makeup is art...and you are not required to be a master artist to be good at it. Do you guys remember Bob Ross? The guy with the 30 minute painting TV show? Well, I live by his quote:
"There are no mistakes...just happy accidents!"

The first step to achieve any great look on your eyes, you should start out with a primer. Preparing your eyes with primer gives your eyeshadow the best base. Eyeshadow will "pop" and stay put longer if you use a primer. Primers also keep your shadow from creasing and getting greasy, as they can tend to do, since we are humans and we do produce skin oils.
I usually use a MAC Paint Pot in 'Painterly'. Its a perfect light base. I have yet to try other eye shadow primers but am really interested in trying the Too Faced one. I have heard a lot of good things about it. If you're not using anything at all, I would recommend you start to use a primer if your really looking for a dramatic "smokey eye" or any other dramatic eye look.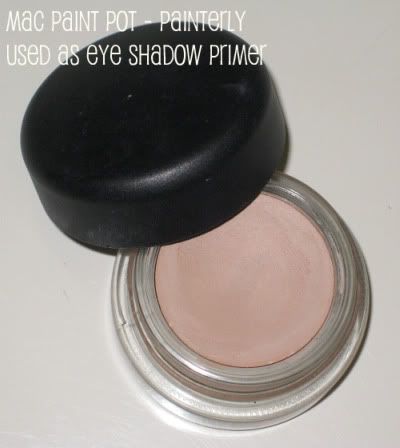 If you are also using 'Painterly' as a primer, apply it from the lash line all the way to the brow. This will allow your brow highlighter to really do its job when you are ready to apply it.
Don't mind my untamed brows...hehe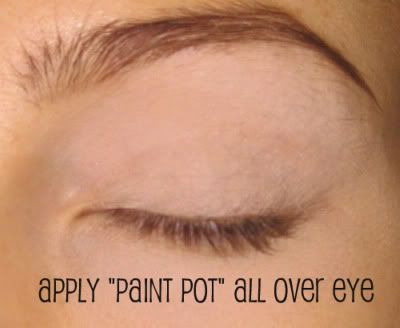 When I do my "smokey eye" look, I usually use 2 different eye shadows: a color of choice and of course...black! For this look I have chosen to use a neutral color such as brown. I selected MAC 'Embark' and applied it all over the lid to the crease. You know when you hit the crease because you can feel as if you are applying your eyeshadow to the roundness of your eyeball. With 'Painterly', it could get annoying, since it is so thick, your eyeshadow may have a hard time coming on and could look very patchy and uneven. Just blend it in with your finger. If the corners of your eyes seem to have a hard time blending, just pull your eye and then blend it with your finger. Just keep in mind that there are no mistakes! Just happy accidents!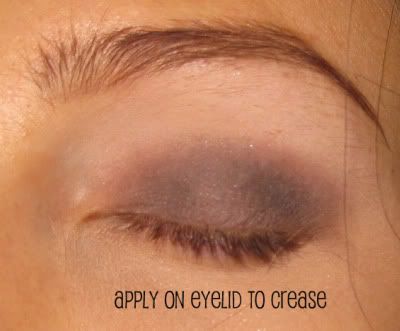 After you have blended the base shadow to your liking, apply your choice of black eyeshadow to the outer V, using a thick angle brush. I used MAC 'Black Tied', just because I wanted to add some shimmer. Any black eyeshadow is perfect for this look. I have found this type of brush to be the easiest to apply to the outer V with, since it gives you the accuracy of a regular angle brush, and the blending of a normal blending brush.
Using your blending brush, blend the black that you have just applied to your outer V, inwards towards the middle of your eye. Apply more black eyeshadow to the crease with a thinner brush (the roundness of your eyeball) as it will give you a contoured sexy look, and blend with your blending brush.
Blend the shadow on your brow bone using a highlighting shadow. Blend the black in with the highlighting shadow to get that "smokey look". The highlighing shadow I had used was the highlighting shadow that came with my MAC eyebrow palette. The color is called 'Ivory'.
The key to the smokey eye is to

blend blend blend!!!



All those "mistakes" you think you had made up until this point can all be erased simply by blending. Using the highlighting powder or shadow enables you to blend a lot easier and gives the black a very washed out, blended, and smokey look up until the brow...and you can go past the brow if you like.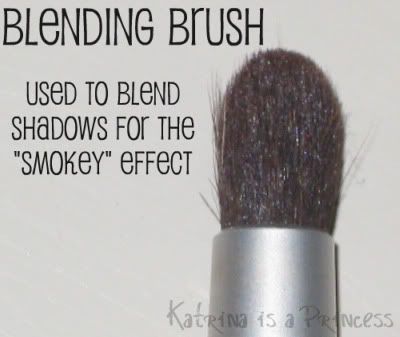 You can apply more black shadow and blend to your liking if you are looking for a more dramatic look. Its all up to you! At this point you have plenty of room to play around without error. Once your eyeshadow is blended, it gets easier to blend more black into your eyelid and get the darker look.
I like to apply my eyeliner now. Sometimes people apply eyeliner in the beginning, but I have found that this way it is much easier and comes out cleaner looking. You won't need to re-line your eyeliner and possibly mess up.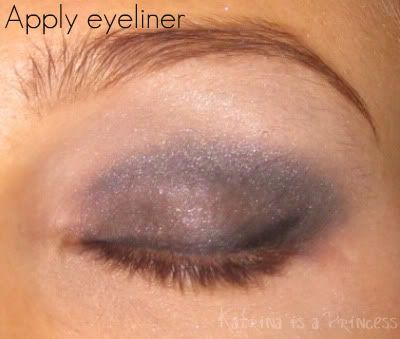 Blend your eyeliner using a thin angle brush. Blend it towards the outer V and upwards. This gives your eye the effect that the line is natural. Apply your liner to the water line of your eye if you choose, or your lower lash line. I personally like to apply it to my waterline because it is much simpler for me to do so. I find it messy at times to apply it to my lower lash line because the lashes get in the way and tend to make it look unclean. If you do apply liner to your lower lash line, blend it in with your angle brush.
Some people who wear eyeliner alone, or apply it first tend to like to blend it in with a Q-tip. I find this to be a cheap alternative to blending...since you don't have to buy an angle shadow brush if you dont have one...but then again the Q-tip tends to wipe a lot of the product away at times. I would recommend getting an angle shadow brush, because you will find it necessary for many different things. You can also use it touch up and fill in your eyebrows.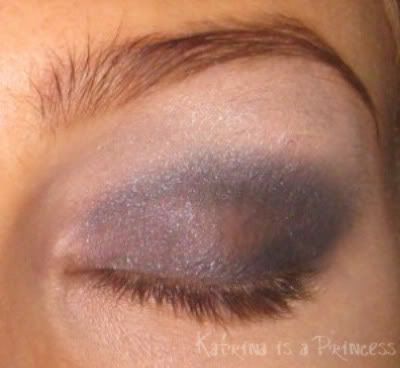 Add mascara to put the icing on the cake! Curl your lashes if you like...or apply falsies! Smokey eyes look amazing with false eyelashes and really make your eyes pop! I usually wear falsies with my smokey eye look, but today chose to go lash-mando ("commando" but on the eyes...lol). So no falsies for me today. I didn't want to deal with having to take them off.
Since I've gotten pregnant I have stopped using Revitalash, which is a product I swore by. It really does work to make your eyelashes longer and fuller! A little bit after I did stop using it, you realize that your eye lashes go through growth cycles, just like the rest of your hair. It eventually falls out and new hair grows back, so after some time, your normal lashes will grow back, with their normal, natural length. This is what has happened to me. It wasn't too long ago that I had my long lucious lashes...I miss them. After I have this baby I am overdoing it on the Revitalash! I need to get those lashes back! If you are looking to buy Revitalash you can get some here - SkinStore.com

With a dramatic look on your eyes such as the smokey eye, its usually a better choice to go for a nude or lighter lip. I chose to go with MAC Creamsheen lipstick in 'Creme Cup', which is a creamy pinkish nude color, along with the matching MAC Creamsheen lipgloss in 'Partial to Pink'. If you go for a dramatic lip, with a dramatic eye, it might cause your face to clash and would look like too much. Most celebrity makeup artists choose to apply a nude or lighter lip color to go along with the "smokey eye".
I hope you have found this helpful in case you have any trouble with the ever so popular "smokey eye" look. Let me know how it worked out for you!
Enjoy!