I know I have been blogging about makeup a lot lately, but it mainly because I have been going through a little obsession with MAC. Its been a while since I've purchased anything from them and now since my dry spell is over...I'm kind of hooked. I'm still flushed with ideas and will have some more posts coming for you guys as well as some product reviews, but for now...lets talk about how excited I am because...


MAC Dazzleglass is back!
I will be picking up a few next time I hit up the mall, even though they run $18 bucks a pop. I was hoping they would lower the price, but I'm obsessed with lip products so, I'll manage to deal with it!
My dad always told me it was a good thing! Keeping your lips moisturized is a must! Be careful though, never wear lipgloss to the beach or places where you will be exposed to the sun for extended periods of time because your lips are made of delicate skin and lip gloss may intensify sun burning them and can cause long term damage.

Thats why I always wear sunblock on my lips if I'm going to beach. You can either apply a little bit of zinc oxide...which are sold in little tubs in any drug store, or buy a children's sunblock stick...which is perfect for application to delicate areas like on your face and your lips!
Okay, enough of that...back to the fun stuff!
MAC Dazzleglasses are back and some of them are here to stay!
When MAC had previously launched the Dazzleglass collection, I had picked up one tube of Dazzleglass in 'Sugarrimmed', which is a milky, pale pink with red, teal, and white pearl glitter, and I have been obsessed with it. I'm almost out and very excited to be getting some more!
I really want to buy it in 'Baby Spakrs' which is a pale pink with violet pearl glitter. Very pretty, and its pink...you guys know how much I love anything pink!
These glosses are SUPER STICKY! They can get quite annoying on a windy day. If your hair gets stuck to your gloss and you try to move your hair away, you just might get that swipe of gloss all across your cheek and in your hair. Other than that, they last a very long time and are not drying at all!
The glosses are super glittery, but the glitter does not feel gritty on your lips like other glittery lipglosses tend to feel. This is one thing that sets this set of glosses apart! They feel beautiful on your lips!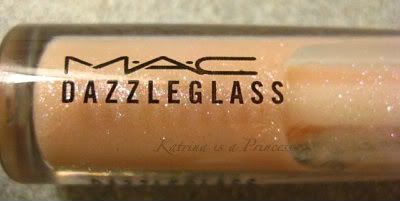 Too Faced had come out with Diamond Gloss, which was a $14 dupe to MAC Dazzleglasses, but they feel gritty and dry out pretty quickly. I wasn't too happy with them. I prefer the MAC Dazzleglass, by a longshot.
xoxo,