I received my MAC Creamsheen lipstick in 'Lavender Whip' with the matching gloss in 'Ever So Rich' today. I had to buy them from eBay because I thought they would be sold out everywhere, but they still have some left over at the MAC booth at the Dillard's at the local mall here. I was so mad when I found out! They had some Hello Kitty stuff left over as well. I picked up 'Fashion Mews', which was also claimed to be sold out everywhere, but I'm telling you ladies, you might find it somewhere!!!
I know I may be late...and everyone has done swatches for these shades already, but I wanted to do some swatches for my friends who have not yet seen any. I have also noticed how at times some swatches may come out a lot lighter, or darker than the color really is, so I tried really hard to take as many pictures as possible to get the most accurate color, rather than what looks the cutest.
I love the Creamsheen collection from MAC. The lipstick comes on very thick and creamy. Even without the gloss you get a very nice shine to your lips. I am in love with 'Creme Cup' and it has become an everyday lipstick for me.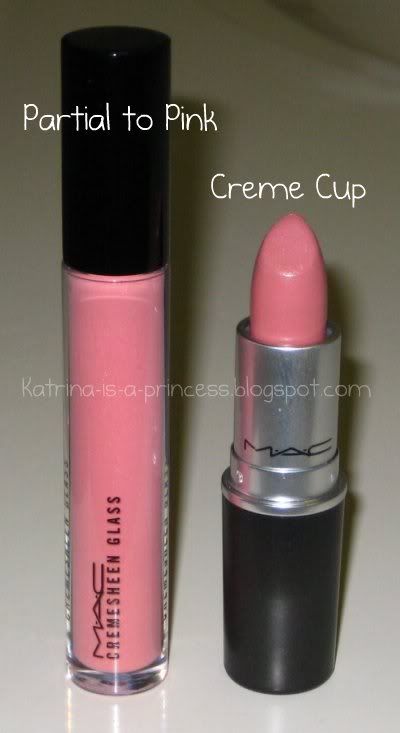 'Creme Cup'
is a nude-like pinkish color. It reminds me of a mix between 'Hue' and 'Angel' which are two of my all time favorite lipstick shades from MAC.
'Partial to Pink'
Creamsheen lipgloss is a perfect match for 'Creme Cup'. The colors perfectly accommodate one another. The gloss gives the lipstick an extra oomph of shine. 'Partial to Pink' is also a light nude pinkish color. Worn alone, the gloss has enough (not too much, but enough) pigment to give your lips a cute pink pout.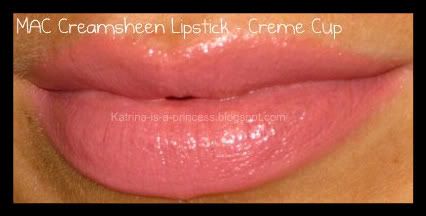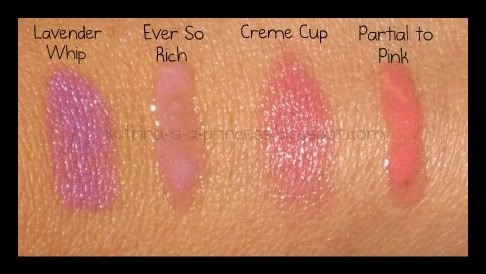 'Lavender Whip'
is a light pastel lavender.
'Ever so Rich'
is the matching gloss to 'Lavender Whip'. Teamed up with the lipstick, the gloss looks great, but alone, you can barely see it. Its very see-thru and not very pigmented at all.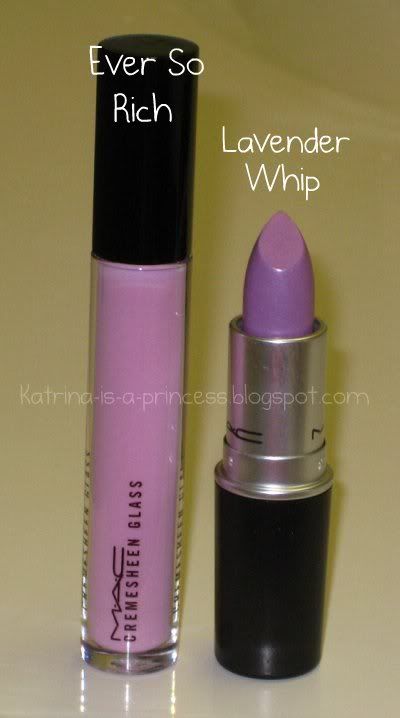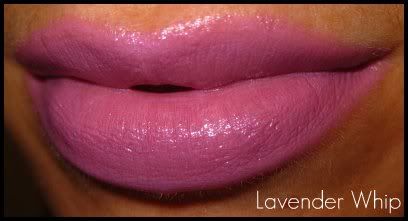 I wanted to compare 'Lavender Whip' to other lavender colores lipsticks that I have. I compared it to MAC Hello Kitty Limited Edition 'Fashion Mews' and NYX Round Lipstick in 'Power', both of which I had just recently purchased.
'Lavender Whip' is much more of a strictly lavender color, while 'Fashion Mews' comes on rather pinkish and 'Power' has a mauve-like pinkish hue to it.